Filter by Subcategory
Youth Programming
Garden to Table Youth Workshop
with Education Team

Next available session starts Apr 20, 2023 at 9 am
Get ready to get your hands dirty as we dig deep into the concepts of organic gardening this April Break! Learn real world chemistry applications as we conduct soil chemistry experiments, testing for pH and essential nutrients. We will discover new ways to design and plan gardens to maximize food production in small spaces. Participants will be actively involved with helping Arboretum staff develop a new and improved community agriculture program on the grounds. 
This is a two-day program open to youth ages 10-14.
The price of this program is calculated using a sliding scale income-based model. What you pay is adjusted based on household income. The price breakdown is as follows:
Less than $10,000 - Contact us!
$10,001 - $30,000 - $43
$30,001 - $60,000 - $62
$60,001 - $90,000 - $90
$90,001 - $120,000 - $109
$120,001  and above - $126
This program starts at 9:00 and goes until 5:00.
Summer Camp

Next available session starts Jul 10, 2023 at 9 am

, runs for 1 week
3 additional sessions through Jul 31, 2023
During the check-out process you will be asked to "add a person" before you can proceed to payment. Use this feature to add each of the children you will be sending to camp this summer.
Young Stewards Program; ages 7-10
Built on prior years of summer camp's at Viles Arboretum, this summer enrichment experience will give children the chance to become scientists for the week. Children will collect samples, use tools like microscopes, learn real-life survey techniques and more. Coupled with summer camp classics like group games, arts and crafts, and time to just explore the woods, this week is a celebration of the great outdoors.
In addition to in-depth exploration, children will also have the opportunity to tackle their own service project as environmental stewards, helping to take care of and celebrate the rich Arboretum resource.
Environmental Leaders Program; Ages 11-14
This program will provide new, age-appropriate opportunities for campers that have aged out of our original Young Steward Camp by taking the same fun, exploration-based model and adding new activities and challenges for the older age group. Members of the Environmental Leaders program will have opportunities to participate in new interest-focused activities that allow them to develop their skill sets and interests. Each week we will provide new opportunities to meet with professionals in the environmental field to learn about their roles as environmental leaders in our communities. Environmental Leaders will act as role models for members of our Young Stewards Program by leading them in real-world community service projects at the Arboretum. This program provides opportunities for youth to develop the skills they need to to become the future Environmental Leaders of our communities and beyond.
The price of camp is calculated using a sliding scale income-based model. What you pay for camp is adjusted based on household income. This price is calculated in the cart when you answer the "what is your household income" question. The price breakdown is as follows:
Less than $10,000 - Contact us!

$10,001 - $30,000 - $107

$30,001 - $60,000 - $155

$60,001 - $90,000 - $225

$90,001 - $120,000 - $273

$120,001  and above - $316
We are excited to announce we are expanding the age range for camp this summer! We will be accepting campers from 7-14. During most of the day campers will be split into seperate groups of 7-10 and 11-14.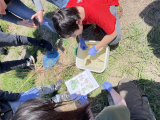 School Field Trips
with Education Team
IMPORTANT: BY REGISTERING FOR A FIELD TRIP PROGRAM USING THIS PLATFORM YOU ARE SUBMITTING A REQUEST FOR YOUR FIELD TRIP. YOUR TRIP IS NOT CONFIRMED UNTIL YOU ARE CONTACTED BY OUR PROGRAMS MANAGER AND PAYMENT HAS BEEN RECIEVED. 
For additional information please reach out to Lauren Kircheis, Programs Manage at education@vilesarboretum.org.
Program Rates
STANDARD YOUTH PROGRAMS: All 1.5 hour programs are offered for the same price per student. $8 per student. No charge for staff and chaperones. $80 trip minimum.
CUSTOM YOUTH PROGRAMS: Don't see a program that suits your needs? We are happy to develop aprogram specific to your curriculum. Add an additional $50 to your field trip total.
Syrup Making
Available Mid-March Through Early April
Maple syrup production is an important part of Maine's history and culture. In this program we will learn how to identify different types of maple trees during the winter when there are no leaves to guide us. When we find our desired trees, students will help Arboretum staff set up a tap line for sap collection. A longer variation of this program with a sap boiling and syrup tasting demonstration can be arranged for an additional cost. This program is completely outside. Be prepared for cold weather conditions.
Vernal Pool/Pond Exploration
Available Late March Through August
What makes a vernal pool a vernal pool? Why would amphibians want to lay their eggs in temporary water sources when there are permanent sources of water all around them? Vernal pools are a fleeting oasis for many unique forest species in Maine. Unfortunately they are threatened by human activities. In this field trip we will discuss ways to identify vernal pools, and ways that we can protect them. We will find some real vernal pools at the Arboretum and get a behind-the-scenes look into these complex and fragile ecosystems.
Soil Chemistry
Availble Year-round
Chemistry is often a difficult subject for students to grasp. We aim to make this complex concept fun and engaging through conducting experiments in our new "Learning Garden". Students will help Arboretum staff prepare the garden for planting by conducting soil chemistry experiments, measuring key nutrients and testing soil pH. This program features real life experiments with colorful reactants. An excellent program for elementary and middle school students.
Tree ID/Forestry
Available Year-round
Learn to better identify our native Maine trees by looking at bark, buds, branching, leaves and even smell. We will discuss the importance of knowing how to ID trees and how trees play an important role in the lives of humans and wildlife. This program can be scaled to suit all age levels. A forest measurement component can be applied to programs offered to high school students if desired.
Nature Walk
Available Year-round
A classic nature walk program that focuses on the interests of your students. Each nature walk covers the history of the Arboretum, the purpose of our botanical collections and the importance of trees to wildlife and humans. Program content changes seasonally, where a spring program could cover topics such as bird migration and vernal pool life, a fall program might focus more on the science behind changing leaves. Can be scaled to accommodate all age levels.
Snowshoeing/Nordic Skiing Tours
Available Weather Permitting
An excellent program for students of all ages! Participants are encouraged to bring their own equipment if they have it. We are able to provide free equipment rentals to those who do not own their own equipment on a first-come-first-served basis. This program will overview basic technique and equipment use. Once participants are comfortable, we will embark on a winter tour of the Arboretum. Groups are encouraged to show up half an hour before the start of their program to allow time for equipment fitting.